Some of the UK's most endangered birds make their nests on the ground during spring and summer so it's important not to disturb them when you're out enjoying walks.  Birds such as dartford warbler and nightjar make their nests on or near the ground which means parent birds can be frightened off their nests and eggs can easily be damaged by dogs.
Kim Strawbridge, Pebblebed Heaths Conservation Trust (PHCT), "Nature reserves and heathlands are really special and many of the rare birds that breed in East Devon lay their eggs, and raise their chicks, in nests on the ground or low in the heather and gorse. Their nests and eggs are well-camouflaged which makes them very hard to see and avoid.
Small actions from people out enjoying walks really can make a huge difference to our wildlife. By keeping our dog's paws on paths, and out of the vegetation, it means that that we can give our wonderful birds the best possible chance to raise their young, safeguarding their populations.
Birds see dogs as predators so dogs running through the heaths can stop them from nesting or even cause them to abandon nests."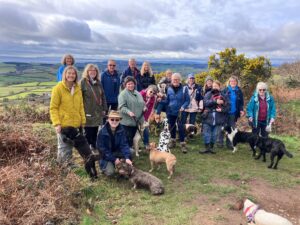 Julie Owen from Devon Loves Dogs,  "It's really important and easy to follow our Four Paws Code at devonlovesdogs.co.uk/four-paws-code. Following these simple steps can protect wildlife and make sure dogs have a happy walk.
Together with our partners like PHCT, we run regular waggy walks to help dog owners learn about the wildlife. At the same time, the dogs have a great time socialising too! All are welcome – check our website at devonlovesdogs.co.uk for future waggy walks and find lots of 'dogs off lead walks' too."
Four Paws Code
Protect nesting and feeding birds on heaths, dunes and wetlands
Keep your dog in sight and think of other visitors
Prevent your dog from chasing wildlife or grazing animals
Bag it and bin it – wherever you are
Read and follow signs and notice boards
Limit the number of dogs that you walk