A landscape-scale project to address the impact of climate change by returning a Devon estuary and flood plain to a more natural condition has been supported by councillors.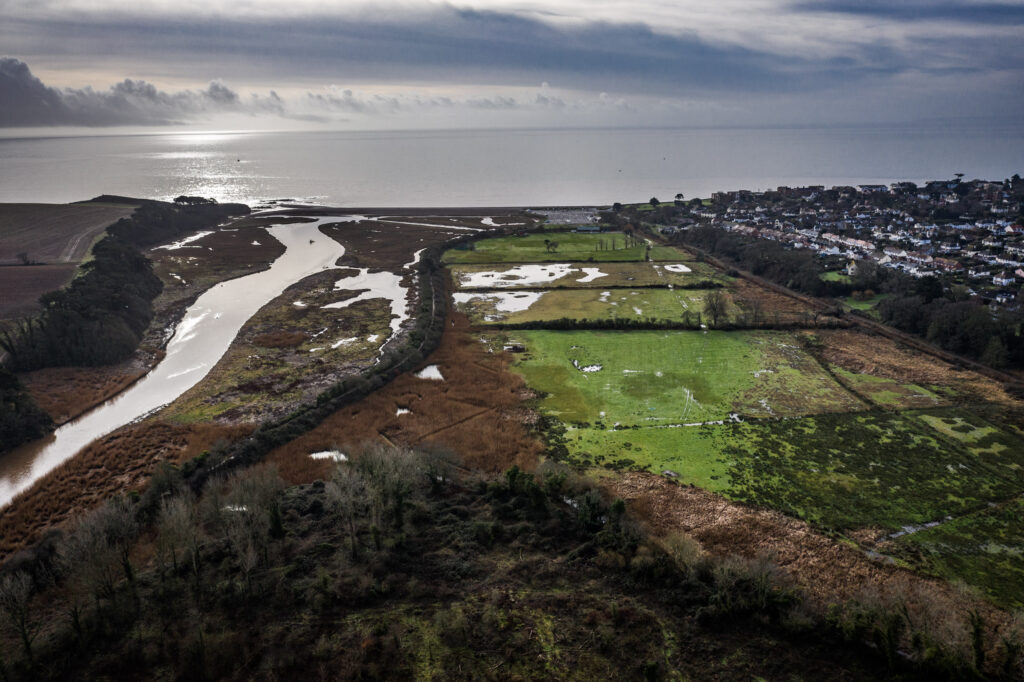 Embankments built more than 200 years ago to reclaim land from the Lower Otter estuary at Budleigh Salterton are now failing in the face of rising sea levels and more extreme weather conditions.
The benefits of the proposals include the creation of new areas of intertidal habitats, mudflats and saltmarsh which provide a home for numerous rare and endangered native and migratory species.
This timely initiative will deliver key Government objectives set out in the 25 Year Environment Plan and Environment Bill going before Parliament this year.
Landowner Clinton Devon Estates and the Estate's Pebblebed Heaths Conservation Trust, responsible for managing the area, forged a partnership with the Environment Agency to form the Lower Otter Restoration Project to explore ways of managing and funding the project, working alongside a wide-ranging group of other local stakeholders.  The Estate had been investigating options for the floodplain since 2003 and commissioned a number of studies.
As well as recreating the former habitats, it was important to maintain public access to the much-loved estuary, particularly as the nationally important South West Coast Path now runs along the top of the 200-year-old embankments.
The Budleigh Salterton Cricket Club's Ottermouth ground, an important community and regional asset, will be re-located on Estate land as part of this project.  The club has often, over many years, been badly hit by flooding.
Ideas on how the project might proceed were shared with the public over a number of years before a planning application was submitted by the Environment Agency at the end of 2020. The application was supported by a wide range of conservation and other bodies including the RSPB, Natural England, the Jurassic Coast Trust and the Devon Wildlife Trust.
Now members of East District Council's planning committee have voted to support the proposals.
John Varley, Estates Director of Clinton Devon Estates, said: "This approval paves the way for a major landscape-scale project which has come about because of an exemplary public-private partnership which will benefit people, the environment and wildlife.
"It demonstrates that rural estates can play a key role in addressing the climate crisis, leading the way in respect of a number of national agendas including nature recovery, creating new habitats and delivering a net gain in biodiversity, on a landscape scale.
"As the eyes of the world will be on Britain as hosts the UN Climate Change Conference COP 26 in November, this project shows we are prepared to act now to address the challenges we all face."
Dr Sam Bridgewater, Head of Wildlife and Conservation at Clinton Devon Estates, said: "The Estate is proud to be associated with this project. It is recognised nationally and internationally that coastal communities must adapt as sea levels rise and storm events become more frequent.
"It is our belief that the Lower Otter Restoration Project will provide a more sustainable and certain future for the threatened Otter valley. It will also deliver very significant benefits to people and wildlife in the long term.
"The granting of planning approval is a major step forward in helping us deliver this vision.  We have worked very closely with a wide range of stakeholders who have helped us reach this milestone and we are grateful for their input over the years."
Mark Rice, Environment Manager for the Environment Agency, said: "Climate change is affecting the way we manage our coasts and estuaries and we must adapt to that change. The Lower Otter Restoration Project is an example of how we can do that. We aim to deliver long term benefits for people and wildlife by working in partnership and through more sustainable management of the Otter Estuary."
Planning approval means work on the project can start this spring and be completed in 2023.
The Lower Otter Restoration Project is part of a wider Project PACCo – Promoting Adaptation to Changing Coasts – which will receive €17.8m from the Interreg VA France (Channel) England programme.
For more information on the project, please visit the website www.lowerotterrestorationproject.co.uk