When:
July 25, 2020 – July 31, 2020
all-day
2020-07-25T00:00:00+00:00
2020-08-01T00:00:00+00:00
Where:
Wheathill car park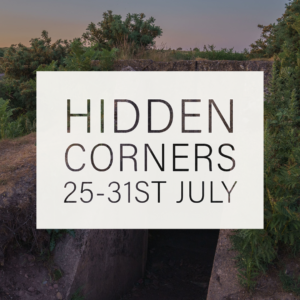 A self led photography trail on East Budleigh Common with photographs from Andy Thatcher illustrating the 'Hidden Corners' of the Pebblebed Heaths.
"We've all got our favourite spots on the heaths. While I love the expansiveness of open heathland, it's the hidden corners that draw me in again and again. Whether it's the depths of a plantation, an old building being consumed by brambles, or a scramble down to a stream bed, these places take me back to the stories of my childhood and get me dreaming. On my Hidden Corners trail, you'll be exploring East Budleigh Common and hopefully finding some new spots to exercise your imagination. Along the way, you'll see work inspired by walks on the East Devon Pebblebed Heaths on those long, dreamy evenings leading up to the summer solstice." Andy Thatcher.
Follow the trail to find 6 photos that show hidden places on the heaths. Do you recognise the places in the photos, do you know which common they are on? Once you have made your guess look in the back of the sign for the answer.
Download the trail route here